With a bit of fiddling about, you can get the C300 to mount on the Ronin-M pretty easily.
To do this you need to remove the eyepiece. The issue with both the Canon C300 markii and the C100 markii, is the eye piece cannot be removed. This will severely limit the range of motion, as the eye piece will hit the back of the Ronin when you tilt up.
The interesting thing about the Canon C300 mark ii is that is has good face recognition focusing, this pared with the Ronin m gimbal should make for an awesome and effective piece of kit. The only issue is, will it fit?
The very heavy F55 on a Ronin M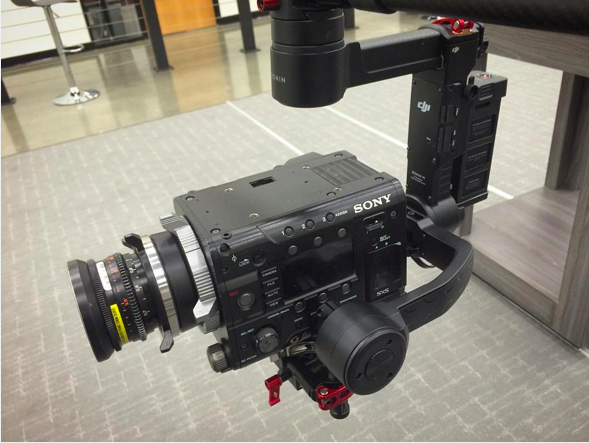 I have been keeping an eye on Cinemilled, as they constantly build things to add more cameras onto the Ronin and Ronin M. They recently posted this picture with a Sony F55 mounted to a Roniin M. If you have used an F55, you will know it is very heavy and pretty long. With this in mind, I am pretty much certain a C300 markii will fit on a Ronin M with the right Cinemilled part. The picture above came with an annoucement, saying Cinemilled have just made a new part to enable larger heavier cameras to be mounted to the Ronin M.
Here is the quote from their instagram feed:
Sony F55 on a Ronin-M perfectly balanced? How? you say? Only possible with cinemilled innovations! In a few days discover how to unlock more camera build possibilities from your Ronin-M....and Ronin !! Coming soon, stay tuned! We're busy!
The C100 markii on a Ronin M
Even with the older tilt extension arms from Cinemilled it should be possible. Here is a C100 mark ii mounted to a Ronin M. If you look at the tilt arms at the bottom, you can see there is loads more room to lower the camera. This will mean that even with the eye peice attached to the camera, it will clear the back of the Ronin, to give you full manoeuvrability.
More details on Cinemilled can be found here.