EVF and Monitor review of Zacuto, Small HD, TV Logic and Marshall
Zacuto Z - finder

Checking focus and exposure on a small, low resolution screen on the back of a Canon 5d or 7d has never been an easy thing to do. Zacuto first tried to solve this by selling an eye piece, the Z-finder. This certainly made things better, it blocks out light and allows you to see the image better, but essentially you are just looking at a low resolution picture that has been magnified. The other big problem is, it means getting your body into all sorts of strange positions as the eye piece can't be tilted up or down, so if you are shooting shots on the ground, you need to be lying on the ground, which isn't always ideal.


Zacuto Z- finder EVF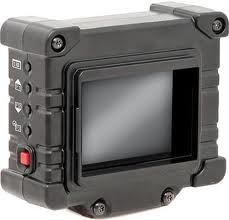 A step up from this the EVF or electronic viewfinder. These run an HDMI signal out of the camera and give a higher quality picture which can be moved around like a traditional full size camera eye piece. In the case of the Zacuto the resolution is 56 percent better than what you are looking at on the back of a DSLR like the 5d or 7d. Redrock also sell an EVF, as do Cineroid. Those who already own a Zacuto Z-finder may be tempted by the slightly more expensive Zacuto EVF as it can be used in conjunction with the Z finder.


The next option is the HD monitor. EVFs tend to still be fairly low res and are only around 3 inches. HD monitors are almost double that size and have a much better image quality. The increased size also means a director or client could look over your shoulder and get an idea of the kind of shots you are getting. There are several different types of monitor, but for this kind of job it is worth considering SmallHD, Marshall and TVlogic.
Firstly, let's consider resolution. When viewing a 16:9 image on the back of a 7d or 5d screen you are essentially viewing a resolution of 650 x 360. With Zacuto's EVF this goes up to 800 x 480, but with a 5.6" monitor you are going up to 1280x800 in the case of TV logic and Small HD, and 1024x 768 in the case of the Marshall 6.5" or 800x480 with the Marshall 5".
Making sure the monitor has decent resolution is only part of the issue here, it is also worth considering how you want to power your monitor, and what kind of inputs and outputs it has. The Marshall 5" is reasonably priced at under £500 (and about 500 dollar in the US) , however, it only has HDMI - so not great if you want to use if on another camera in the future, and it is powered by AA batteries. If you are going to spend 500 quid, I think it is worth future proofing the monitor, there are many applications where an HDMI input just won't do the job. This wouldn't really work for me, so from here, I'll just consider the next model up: the 6.5" Marshall.
Marshall 6.5"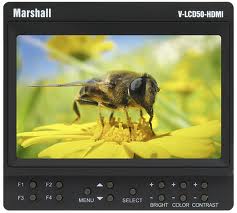 The Marshall get's great reviews from Philip Bloom and a whole host of other DSLR shooters. It seems particularly favored for its false colour and peaking, making exposing and focusing much easier. Although it isn't clear from Marshall's own site, if you go to a reseller such as Creative Video, they can add a few power options, so you can power the camera off the same LP-E6 batteries that run your Canon camera.

The big problem for me with Marshall monitors is that they only sell HDMI or HD/SDI. This isn't great for future proofing your monitor. If you are spending a grand on a monitor you need it to last. Personally, as a freelancer, I could find myself shooting a different camera at any point, and having an SDI input is essential for many cameras, particularly outside the DSLR world. I generally think of BNC connectors as being industry standard, whereas HDMI is really a consumer connection when it comes to cameras. Imagine a situation where you need to use this as a directors monitor, and the director needs to be a 10 or 20 meters away - I don't even think they make HDMIs that long, and even if they did the likelyhood of the HDMI connector pulling out of the socket is very high. BNC is the way forward.

Small HD DP 6

S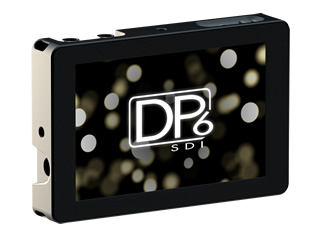 mall HD seem to have the right idea here. Their product looks great, there a lots of options with regards to inputs so you can have both HDMI and HD/SDI if you need it, you can also choose from a huge variety of power options. There is also a kit which gives you a flare hood and whole load of other useful accessories.
(SmallHD would probably be the first choice for me, if it wasn't for the fact they are based in the US and have no UK reseller. For tax purposes it is much better for me to by all my kit from one UK reseller and then claim the VAT back, and for that reason I had a look at TV logic. Buying SmallHD outside of the US means you are paying all sorts of taxes and import duties, money which is better spent on your monitor.)
Small HD DP4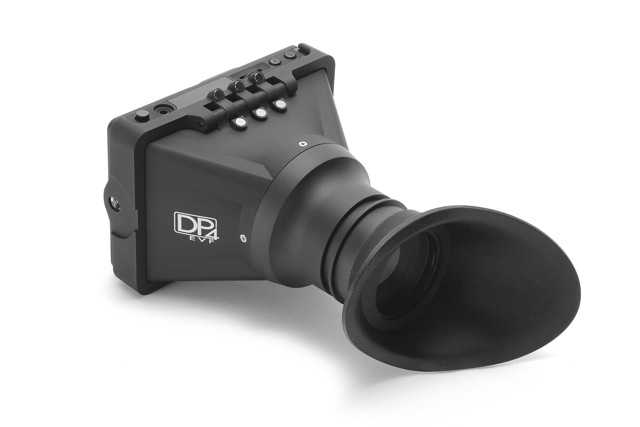 If you are looking for something in between and EVF and a monitor, the Small HD DP4 would be a good option, it is a great size and comes with a hood loupe. I have used this a few times and really liked it. It is a nice size at 4.6", this means you can use it as a small monitor on your camera, or you can clip on the hood loop and use it more like a traditional view finder. I find when using monitors as view finders, even if you have a good flare hood, there will always be a time when the light is reflecting right of the screen messing up your view. With the hood loupe, you totally eliminate this problem.

TV Logic 5.6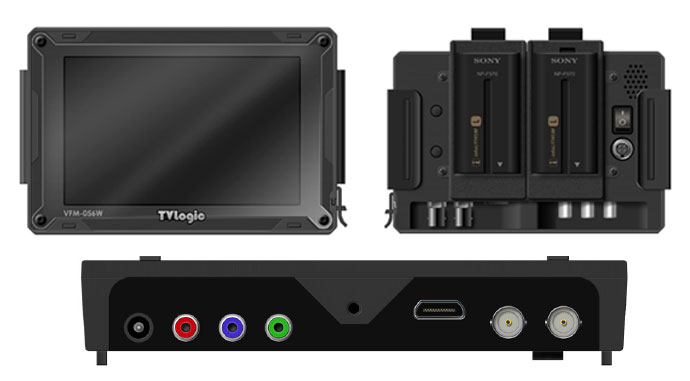 TV logic are based in Korea, they have been making broadcast monitors for years and have recently added 2 x 5.6 inch monitors to their range for the DSLR market. I have previously owned one of their larger monitors and know they build decent kit. Unlike Marshall, they offer both HDMI and HD/SDI inputs. There are also several different power options and it has high resolution 1280 x 800 screen. Both TV logic models are much the same, but the more expensive of the two has a vector scope and waveform and it also has HDMI to SDI out allowing connections to other monitors. If you are unsure you need the more expensive model, you can always upgrade later and have these features added to your monitor.
Strangely TV Logic monitors seem to be a bit under the radar, every forum post I read talks about SmallHD and Marshall, but no one mentions TV Logic. The really great thing about their monitors is the weight: they weigh practically nothing (about 300 grams or just over half a pound.) The Marshall of the equivalent screen size is really a whole lot bigger and heavier.
So, all in all there is now a pretty wide variety of on-board monitoring devices for the DSLR shooter, from the simple eye piece to the 7" monitor. Essentially, the kind of work you do, and the kind of budget you have to play with, will inevitably help make the final decision. I have used all of these monitors and must admit my vote would be for the TV logic 5.6
UPDATE (Feb 2013):
SMALL HD AC7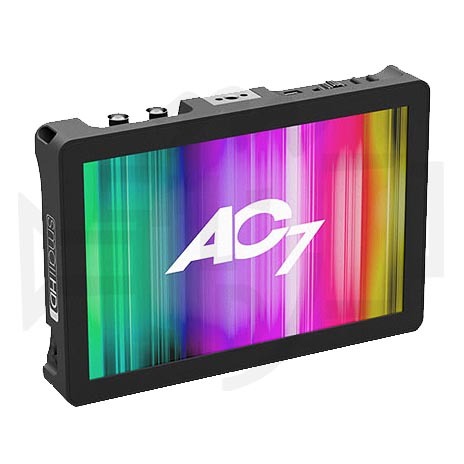 Just to make that decision a little bit harder, Small HD have now added to their range with the AC7. All the monitors in this review are LCD, Small HD now have OLED or an LCD version of the AC7. The LCD version is 7" while the OLED version is 7.7". You pay more if you want SDI as well as HDMI and you pay more again if you want the OLED version (which gives you a range from 600 to 1400 USD).
OLED should in theory give you a much better picture, and looking at the info on Small HDs website these monitors should be very impressive.
To read more about LCD V OLED take a look at the Small HD fact page.