Three and half years ago I asked the same question: should I buy the new Canon C300? At that time the market was a very different place, many people were still shooting on DSLRs and the C300 solved many of the problems inherent in shooting video with a stills camera. The C300 mark ii enters a market awash with cameras that shoot 4k and high frame rates.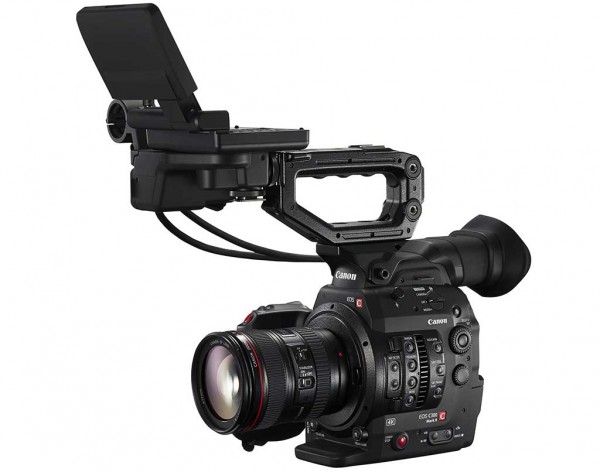 There are plenty of options out there. For those on a small budget, cameras like the Panasonic GH4 and Sony's A7s both shoot 4k and have good low light abilitiy. Blackmagic Design have entered the market and are supplying low cost 4k options like the URSA. If you need internal ND filters and the ability to plug in XLR cables you can pay a touch more and get the Sony FS7 that has incredible specs for the price: 4k and 180fps at 1080p for $8000! Move up the price range and there is the sturdier, PL mount, Sony F5/55 and plenty of options from RED.
At $16,000 (US price) the C300 mark ii is not a cheap option. When the camera was first announced many, myself included, were disapointed with the slow motion options. People are used to seeing iphones cranking out super slow motion and expected more from at $16K camera. The mark ii manages only 100fps PAL 120fps NTSC at 1080p using a senor crop. Using a crop to achieve slow motion can be annoying on a shoot. Not only do you have to set the camera to record slow motion, you also then have to change lenses or reposition as you will now be too far zoomed in on the shot you had.
Sony has gone some way to improve camera ergonomics. The F5/55 sit comfortably on the shoulder, and even the cheaper FS7 isn't bad at all with a dedicated eye peice and removable hand grip.
Having said this, up until now, all we have had to look at is stats, numbers on paper. The pictures the camera produces is really what matters. The people who pay my bills might occasionally require slow motion, but above all else I need to supply them with fantastic looking pictures. A couple of films were recently released that piqued my interest.
There was a lot I liked here. The dynamic range is obviously pretty impressive. Lots of shots straight into the sun and the camera really holds on to the detail in shadows. The skin tones looked great and I liked the colour and tones generally, especially inside the house.
If the first video got me mildly interested, this next one started to draw me in a bit.
It's the shots inside the Japanese house where the woman inside looks like she hasn't even been lit. Of course this is a video produced by Canon marketing and for all I know there could be a massive poly board bouncing some very subtle fill back on the actors face, but it doesn't look that way. Again the tones are stunning, soft natural and not at all vivid or video ish.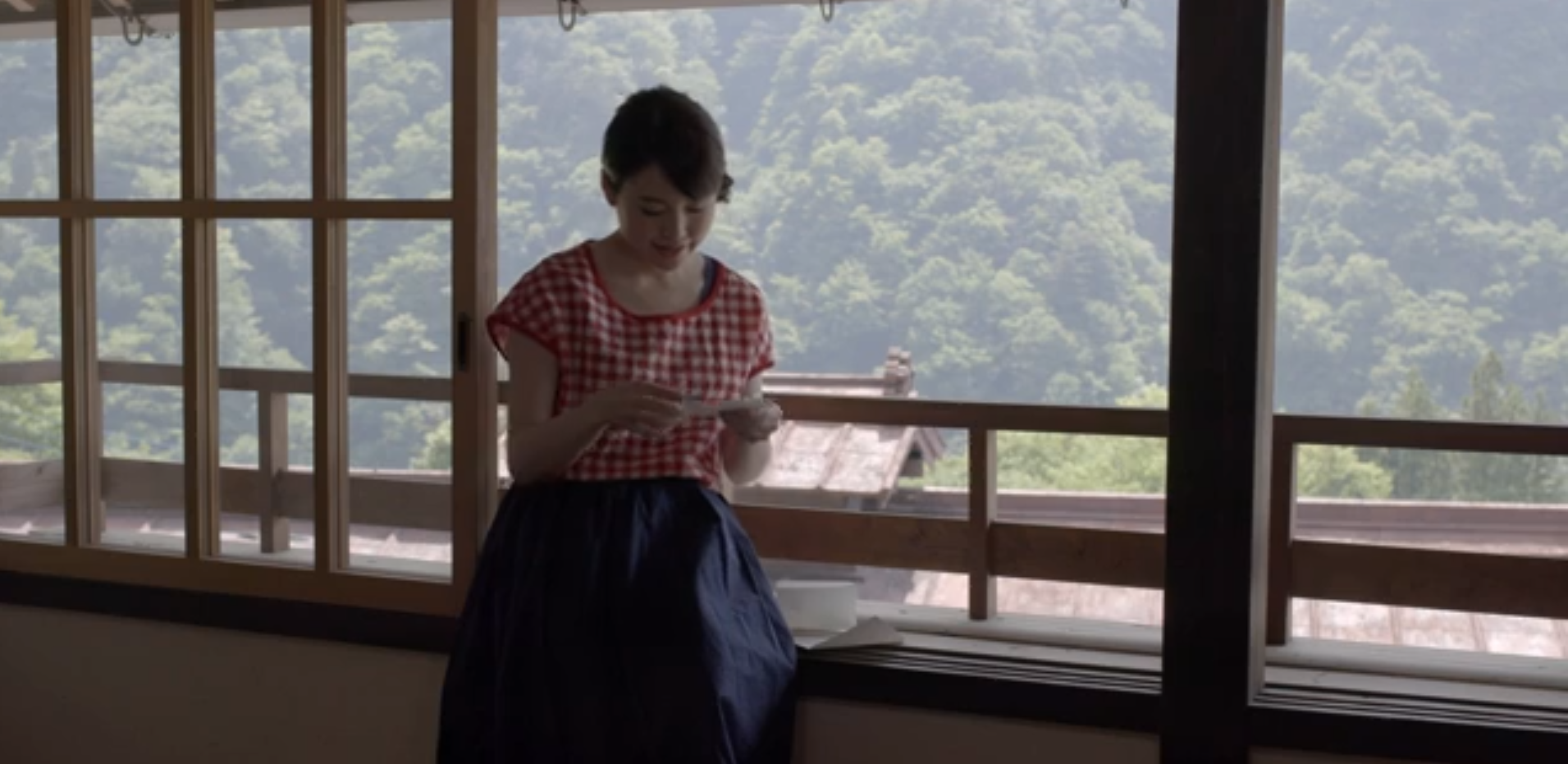 Although most of the footage looks like it was shot on a slightly overcast day, you can clearly see the sun is smashing through in this shot. The trees have shadows amongst them and shadows are being cast on the roof of the building opposite around the chimney. Yet, despite all this sunlight we aren't loosing too much detail in the trees and the actor's face is still look good in a dark, un lit room.
The next video that is well worth a look at is this one that shows of the Canon's auto focus function. Auto focus has always been something I associate with home video cameras from the 19080s, but this video might change that.
I had thought auto focus for video a horrible idea: motors constantly hunting for the focus point, rapidly shifting in and out of focus. This looks very different though. When the model turns away from the camera the face following software stops, and then picks her back up when she completes her turn. (this happens 1 minute in). The auto focus system doesn't freak out and focus on the pony tail or the back wall, it just sits and waits to pick the models face back up like a camera operator would. The face against the mirror trick is also very impressive (around 1:25). At first I thought I wouldn't have much use for a full auto focus system, but what about if the camera is mounted on a stabilised gimbal, or maybe on a jib? It could be a very useful function, if it works as well as this video suggests.
I am also interested in the dual pixel focus guide.(1:45) The amount of times directors have wanted a ridiculously difficult pull focus, where a presenter is walking towards camera whilst delivering their lines. The safe thing to do is stop down, but so often directors want to shoot wide open, not realising just how hard that pull will be when you are operating by yourself. Having an indicator that says whether you are focusing too far or to close from the subject could be very useful. Again, it is hard to say how this would work in a real life situation, but it is only a few months until the camera is out and reviews will start coming in.
Here is the full video without all the camera info
If you want to see the focus being tested out by someone other than the camera manufacturers, check Dan Chung at Newshooter.com The video is below and the full article can be found here.
I like the fact that focusing speed can be selected, and you can manually choose which person to focus on when there are two people in shot.
So what else has changed with the updated C300? I have covered this a bit in a previous article comparing the C300 mark ii to Sony's FS7 and F5, so I'll keep it brief.
1) The top handle has been improved. A single screw thread has been replaced by a much more solid offering.
2) All camera buttons now illuminate and make less noise when you push them.
3) A basic mic has been added so you can shoot without the LCD.
4) A new additional unit can be attached that take in audio, but without the LCD screen
5) The monitor cables are no longer hard wired
6) The whole camera is in a stronger diecast housing.
7) Extra ND added (8 and 10 stops)
8) 2k and 4k in camera
9) 4 channels of audio at 24 bit (previously 2 at 16bit)
10) 15 stops dynamic range
11) 120fps Slow mo (crop) at HD.
12) High ISO at 102400 Canon are saying the camera has great low light ability, and it that is almost certainly going to be true.
13) Built in "looks" to better match the C300 with other cameras such as Alexa, Sony F55 etc.
14) Records higher bit rate to faster cards to stop rolling shutter.
If you haven't seen it, the guys from Zacuto give a really good all round chat about what has changed with a representative from Canon. It's 25 mins long, but worth a look if the camera is on your radar.
So, to come back to my original question: is this camera is worth buying or not? I know there are going to be hoards of camera owners pulling their hair out here saying WHAT! $16K for a camera that under performs cameras that can be bought for half the price!! I know where they are coming from, it seems a little highly priced to me too. There are pluses the C300 mark2 will have against it rivals. In the broadcast world it has a fantastic reputation, massive amounts of TV has been shot on the C300. They have also proved themselves as absloutely rock solid. I have used mine solidly for three and a half years, I have lugged it all over the world and it hasn't given me any problems. This may not be true of RED or Blackmagic Design, but it is almost certainly the case with Sony's cameras as well, which I have also owned in the past.
My next comparison would be to Sony's F5, which shoots nice pictures, can be easily upgraded to shoot 4k. Despite being over 2 years old the F5 is still ahead of the C300 mark ii shooting 180fps. This is a hugely popular camera, particularly in the world of sports TV where high frame rates are often needed.
As a personal preference, I like the look so far of the C300 mark ii over the Sony F5, however, I prefer Sony's ergonomics and the way the F5/55 sits on your shoulder. The auto focus thing may be a gimic, but I'd certainly be keen to try it out, so far my impression has been that it looks pretty good. At very least the auto focus will be useful for gimbal and jib operating. The F5 is a bit more versatile when it comes to lenses. Being able to chuck a PL lens on when needed, and then switch over to an EOS lens with an adapter is another big plus for the F5.
The fact that a lot is currently shot on the C300, could push me towards the mark ii. If a documentary already has material shot by shooting APs on a C300, they may want their main camera to be the mark ii. The post production process is fairly well geared to the C300, but then that is also true of the Sony cameras as well.
In part my camera buying decisions are dictated by the desires of directors. To an extent I will persuade a director to shoot on a certain camera, but often people come to me and say "we really want to shoot on x" If people start to lean toward the C300 mark ii, I can well see myself buying one, for now I think I'll wait and see how the camera is received when it comes out in September.