Ever since Freefly Systems bought out the MoVI M10, I have been curious to see how it would handle a C300. DSLRs and, to an extent, RED cameras are solid brick shapes that can be balanced fairly, easily whereas the C300 has a tall narrow body with a high centre of gravity. It does take a bit of balancing to get it right, but once it is locked in it works really well.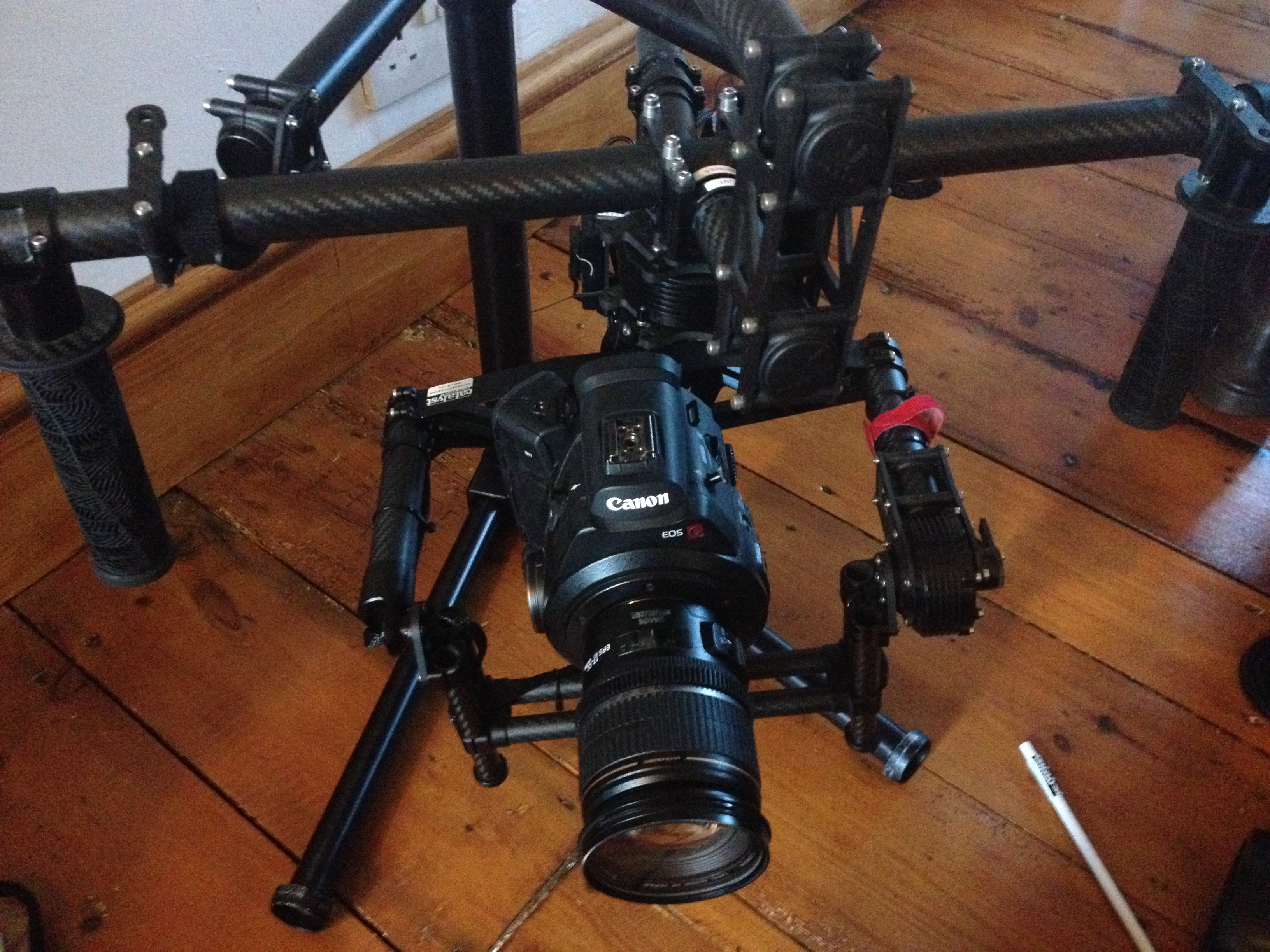 I won't go into how to set this up here, as it is covered well elsewhere (Freefly have a series of videos that take you through the set up process.)
Here are just a few tips for using a MoVI, particularly with a C300.
The first thing to be aware of is that this thing will take a long time to set up (if it isn't already set for your exact camera with the same lens, battery, etc. ) The reason for this is the weight and size of the rig. Before starting to shoot the MoVI must be balanced perfectly, there are several variables to adjust and this will take a while to get right, especially when doing it for the first time. Getting the right rental company is essential, you need somewhere you can go to the day before your shoot and start setting the rig up. If you are in London I'd recommend Catalyst Cameras. Anita is hugely helpful when it comes to helping set your camera up.
The best thing to do is take your camera and lens along to the rental company and get it set up, there is no way you want to be doing this job in the middle of a shoot. You need to take everything you'll be attaching to the rig, exactly as you intend to use it. Even something as light as memory cards will make a difference to the balance. If you intend to use a few different lenses it is a good idea to mark the base of the camera where the balance point is for each lens, that way when you are on the shoot, you can quickly make adjustments when changing lenses. Catalyst Cameras in London are amazing, not only are they really helpful, they also have every conceivable bit of kit neatly packaged up in the MoVI kit box. If you need a screw to mount your monitor, a lightweight BNC or HDMI cable, a screwdriver, allen key, whatever every single thing is right there in the box.
In order to get the C300 working on the MoVI you need to remove the handgrip, the eye piece and obviously the top handle and LCD. Since you'll be monitoring off an external monitor, rather than the LCD, you should send the camera display info through to the monitor, otherwise you will only have the tiny back panel on the back of the camera, which isn't ideal. NB Pulling the communication jack from the hand grip can sometimes make the camera buttons freeze up. If this happens just pull out the jack and re insert. It is also worth making sure that you have assigned the camera functions, so that every button you need is on the side of the camera, on not on one of the bits that you have just removed.
It is worth keeping the weight down as much as possible, although the rig feels light it starts to burn the biceps after a while. I used my TV logic 5.6 mounted on the rig and a 17-55 lens, I wouldn't recommend anything too much bigger and heavier.
Once you have your MoVI balance correctly, it doesn't take very long to set up each time you need to use it. You can pack it down and then just slide the camera on to the correct point and you are ready to go.
I love shooting with the MoVI, it is a really great bit of kit and highly addictive.