My one complaint about the Canon C300 has always been with the view-finder. The LCD screen works great inside, or outside in shady conditions, but when you have the camera on your shoulder and you are filming with the sun behind your back, it is really tricky to see the screen. You can of course chose to use to use an external EVF. I just can't be bothered to deal with an evf for a few reasons:
1) Not all of the features from the camera always make it over to the EVF e.g digital zoom, peaking, zebras etc.
2) I can't be dealing with another set of batteries to charge. This might be okay if you are running everything of one large v-lock - otherwise, too much hassle.
The odd solution to this has become available with a hoodloop type set up, but they usually have one problem or another: too heavy, too cumbersome, insainly expensive ...
Then there is my other issue with using on-board LCD as a view-finder. If you are shooting off the shoulder for any length of time you are going to get extreme neck ache. I speak from experience. Look at where the LCD sits compared to the camera, it is way higher than your eyes, so you are going to constantly have your head pointing up straining your neck!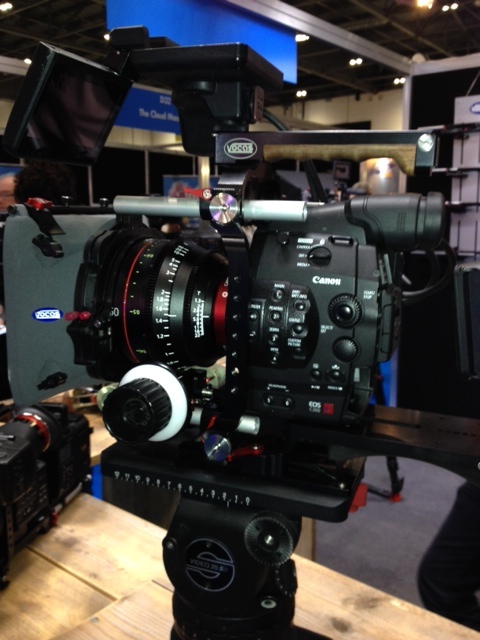 This is the top handle that Vocas have made for the C300. There are lots that is good about this thing. Most importantly it takes weight off the light weight plastic handle that has ONE screw hole! If you load your C300 up with shoulder rigs, lenses etc etc as we all do, you just know that this screw thread is going to break at some point. With this Vocas set up the handle is fixed to a plate at the base of the camera, so no strain is on that thread.
But, and it is a big but, this still doesn't do much for the issue of the positioning of the LCD to the operators eye.
However, at last it looks like the guys at Zacuto have got a solution to both of these problems. Not only have they made an Z-finder style device that fits over the LCD, they have also figured out a new configuration that looks like it will put the LCD where the operators eye is. I can't say for sure if this actually works well, as I have only seen a video of this, and haven't been able to try it out yet, but so far it looks good.
I will try one of these z-finders out as soon as I can and report back.
Update. Since this was written Zacuto also now have the new Gratical Eye, which is another solution to this problem. Read more here and check out my video review.