If you have bought a 7d and are looking for just one lens to start you off shooting video
I would recommend the EFS-17-55mm f/2.8. (If you have a 5d, the equivalent size lens would be the Canon EF 24-70mm f/ 2.8 L) This is one of the more expensive lenses in the EFS range, but it is definitely worth the money. The EFS range are aimed at Canon's with a crop factor, so they will vignette on a full frame camera (such as the 5d) so I wouldn't buy too many lenses in the EFS range, as you want your kit to be future proof. Here are a few reasons to buy the EFS-17-55mm (or the EF 24-70mm f/ 2.8 L if you are a 5d user):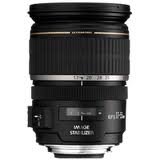 1) The range is perfect 17-55mm with the 7d's 1.6 crop factor would equal a lens that is 27mm to 88mm. This gives you a decent wide and enough of a zoom for some detail. I often keep this on for 60 percent of a shoot, rarely switching lenses.

2) The lens is 2.8f through out the zoom range - which means no change in iris when zooming in (very useful for video work). 2.8 is nice and fast, so it can be used in low light situations, and it also gives you a shallow depth of field. In my mind, there is no point in going to all the trouble to shoot something on a DSLR and then shooting it on a lens that only goes to to 5.6f - the look is really all about the shallow depth of field.

3) IS or imaged stabilised lenses are, in my opinion, fantastic. I was amazed when i first started using them hand held, just how much you can get away with shooting with them. On the long end of the lens you will have no problem doing hand held shots, as long as you have some sort of rig.

If you are shooting video with this lens the next lens you'll probably want to look at is the 70-200mm. I find when shooting an interview on the 17-55, if you want some close up details you have to get way too close to the interviewee, which will make them feel uncomfortable, so for these situations I usually change to a longer lens and keep my distance.